New Sales Team Member Highlight- Pete Aitkin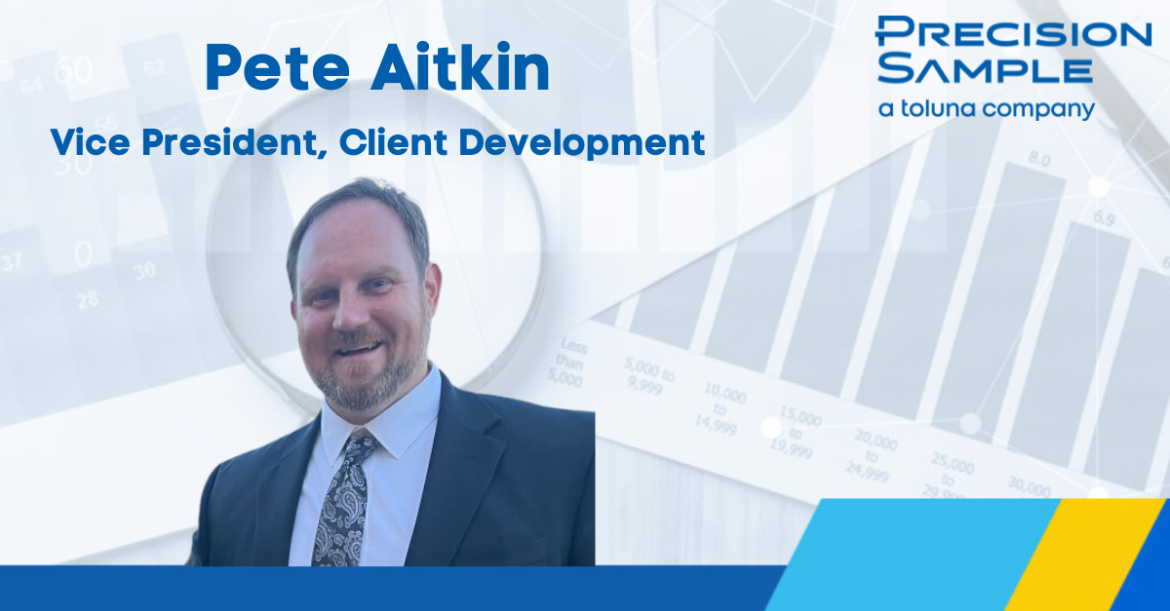 In July, our Precision Sample team welcomed Vice President of Client Development, Pete Aitkin. Pete brings to Precision Sample over 15 years of hands-on experience in the market research industry and has already enriched our team with his vast amounts of value and knowledge. We have been delighted to get to know him over the course of this past month, and we want to extend that same opportunity to you! Get to know Pete:
Question: How many years have you been in the market research industry?
Answer: It will be 20 years this coming February!
Q: How did you first come to work in the market research industry?
A: My Father owned a well-known restaurant in Westport, CT. One of his customers was a founder of Greenfield Online and they were talking about how I was looking to make a career change.  My Dad grabbed his card, I e-mailed him, and the rest is history.
Q: What advice would you give someone else interested in pursuing a career path in the market research industry?
A: The needs of end clients are changing all the time so be able to pivot when needed.  This could mean a different methodology, new/different target audiences, etc.
Q: What do you think is the hottest topic in the research industry right now?
A: Quality
Q: Is it "worth the hype" and why?
A: Yes, because companies are making multi-million dollar decisions based on the results of what respondents say during online surveys.
Q: Where else have you worked in the past- including non-MR positions?
A: Shipping Sales & Lacrosse Administration/Coaching
Q: (Maintaining complete client confidentiality, of course) Tell us about a research project you were part of recently that you were really passionate about (at Precision Sample or elsewhere).
A: Helping a client who had just broken away from his long-time company to go out on his own and execute his first study.
Q: What would others be surprised to know about you?
A:  I love snowmobiling.  I live on the trails in upstate NY and ride as much as I can each winter.
Q: Final comment or favorite quote?
A: "It all adds up."  Whether It's that last rep at the gym or that last follow-up to a client, everything you do adds up in life.  The more you push, the more successful you will be.
Thanks to Pete for taking the time to answer these questions! You can connect with Pete on LinkedIn or email him at pete@precisionsample.com.